The latest event, held last weekend at our Rugby Myton Hospice, continued that trend, with an amazing turnout and equally amazing number of quality donations.
Across the two days, a staggering 70 cars dropped in with their offerings...
along with a further four van loads of donations – 85 per cent of which was Gift Aided, which means even more money will be able to be raised from sales.
Ralph Beevers, Myton's Head of Retail and Trading said:
We are blown away by the support we've received at all of our drive-thru donation events and would like to say a huge thank you to everyone who has donated.
One particular donation was a community affair...
with residents of Houlton in Rugby joining forces to fill Myton supporter Jason Huddlestone's van with a whopping 38 bags full of great donations - from clothes to toys and everything in between.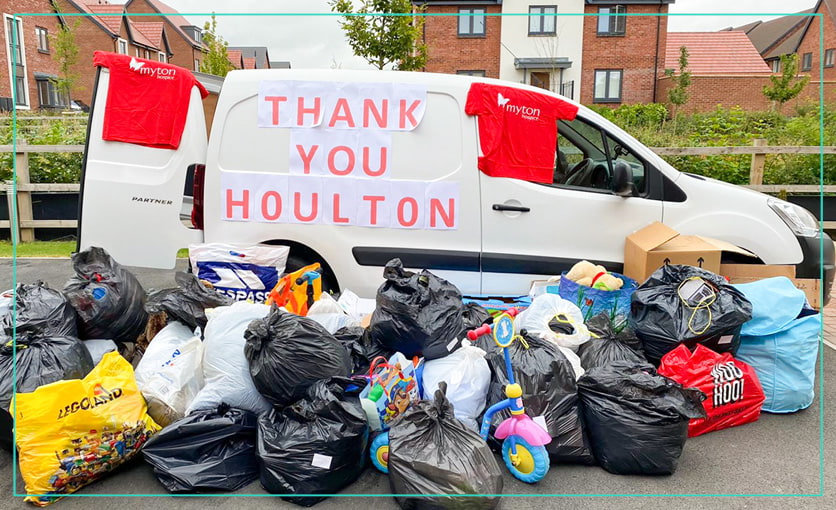 Jason is a long-standing Myton supporter, having raised over £2,000 for the cause since his mum Celia (Barb to her friends) passed away in March 2017.
After a long illness, Barb spent her final days at Coventry Myton Hospice where she died peacefully with her husband, Jason's dad, Harold by her side.
Jason said:
Myton were absolutely amazing, caring for mum and treating her with the respect and dignity right to the very last breath,

But, they were there for my dad too and all of the family. Caring for our well-being and allowing my dad to be there when he needed to be and wanted to be.

Myton allowed the whole family to grieve and come to terms with our loss quicker and without Myton my dad, for sure, would have found it a lot harder.
Barb herself was a big Myton supporter - playing the weekly lottery and donating to her local Myton shop in Rugby. And Jason has continued that support, having regularly donated to our shops and events and also...
raising over £2,000 by doing a sponsored walk!
So, when he saw our appeal for drive-thru donations – a new initiative to help us overcome the restrictions of Covid – he knew he had to not only donate, but go the extra mile.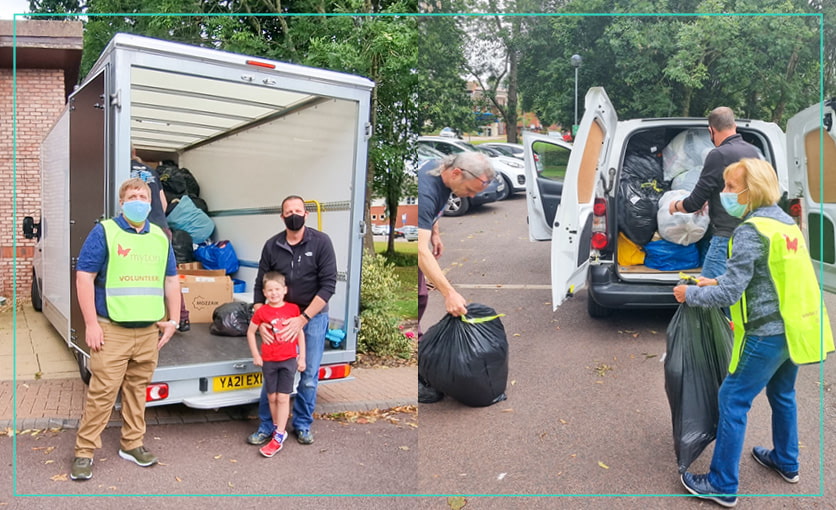 And that's exactly what he did – reaching out to the local community in his home of Houlton.
Jason added:
When we saw the call for donations and the drive through it provided the ideal opportunity for me to do more,

Houlton is a new development on the outskirts of Rugby that is growing fast with a thriving community spirit.

My wife and I posted on the Houlton community Facebook page to offer to pick up other donations and we had such a heart-warming and positive response – with an amazing 38 bags of donations being offered.

I have a small van and we collected all of the bags over a couple of days and then posted a big thank you on the page.

On the day myself and my youngest son, Sam, delivered the full van to Myton Hospice in Rugby.

We would like to make this a regular event now and maybe do a collection every 3-4 months.

Thank you Myton for all you do. You touch so many lives and everyone from staff to volunteers do so with love, dedication and professionalism.
Jason's efforts, and the generosity of the Houlton community, have been hugely welcomed here at Myton.
Ralph Beevers added:
I'd like to pay an additional special thank you to Jason for his amazing efforts and to the community of Houlton who all pitched in to support so wonderfully,

We are very fortunate to have such wonderful supporters helping us raise as much money as we can to support patients across Coventry and Warwickshire with a life-limiting illness – and their families.
If you would like to take part in our drive-thru donations and donate some of your good quality, unwanted items, then we have an event taking place at our...
Warwick Myton Hospice
Wednesday 11th August from 12noon until 2pm
Myton Ln, Warwick, CV34 6PX
Please note, all donations must be good quality, in a saleable condition, such as clothes, shoes, accessories unused toiletries and small items of homeware. We are unable to accept items that are damaged, broken or incomplete in any way.
Thank you for your support!
---
The Myton Hospices is urging corporate supporters to swing into action for its annual Golf Day on September 16!
Back for our third year at Coventry Golf Club, we are hoping all our regular supporters – and some new ones as well – will join us to help make the 2021 event one to remember as we look forward to life after the pandemic.
And we're delighted to welcome our brand new sponsor for 2021 – BRI Wealth Management plc. BRI offer financial planning and investment management advice in and around the local area, and have been established for over 50 years.
Read the latest Myton news below...