Every year, Dying Matters Awareness Week provides the opportunity for communities to get talking about death and dying.
This year's theme is 'Dying Matters at Work'.
Did you know...?
57% of employees will have experienced a bereavement in the last five years and every day more than 600 people quit work to look after older and disabled relatives.
Despite this, less than one in five managers feel very confident in supporting someone they manage with a bereavement.
Less than one third of employees are aware their employer has a bereavement policy.
Society's stigma around opening up about death and dying results in people's inability to cope when it does occur. The workplace is sadly no different.
So much of our precious time is spent at work, making it a crucial aspect of an individual's bereavement journey. However, many people hide their true thoughts and feelings around their bosses, peers and colleagues.
This Dying Matters Week, we hope to change this. By creating an open and compassionate society where we are comfortable with the realities of death and dying, workplaces can be properly set up to support people who are ill or caring for those around them, or have lost someone close to them.
Here at The Myton Hospices, it is well known that we are fantastic at supporting the wider community through death, dying and grief. However, we recognise that self-reflection always needs to take place within our own workplace, to make sure we get it right for our staff and volunteers.
This week People Services and Wellbeing are running feedback boxes in all staff spaces, called 'One Thing I Wish Myton Knew' to provide staff and volunteers the avenue to express their feelings on this topic in confidence.
We are also launching a brand new Bereavement at Work Best Practice guide for line managers, to ensure they can better understand and support colleagues affected by bereavement and grief.
For those of you who are attending Coffee Connexion at Rugby Myton Support Hub on Thursday 11th May, this week's session will be a set of activities and reflections about the theme of Dying Matters Awareness Week. 
Find out more about Coffee Connexion here
We are also running a Talk & Tour session at Warwick Myton Hospice and Coventry Myton Hospice to give people an opportunity to learn about what a hospice is really like and the services offered at Myton.
We are delighted that all 25 spaces have been filled for both sessions but if you missed out don't worry we will be repeating this in the future or you can get in touch if you would like to arrange a visit.
The Myton Hospices will also have an information stand at Coughton Court National Trust throughout the week. Allowing visitors a chance to reflect on what dying means to them, guests will have the chance to write a message or draw a memory on a wooden roundel and find out more about Myton and the hospice services we offer.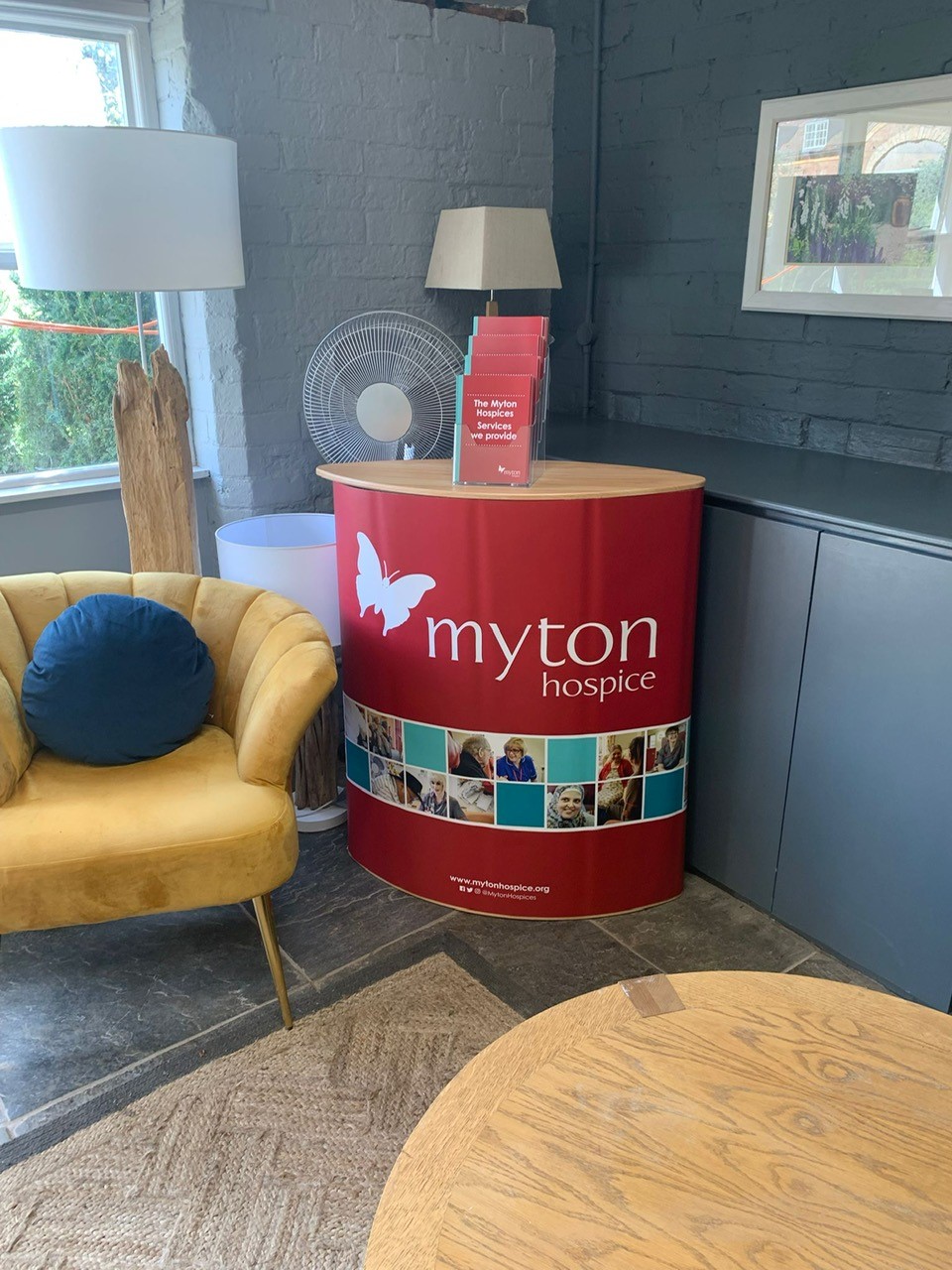 Hospice UK have identified six superpowers individuals can use when talking about death and dying. They are:
Listening Attentively – this is about understanding what others say, avoiding the temptation of listen to respond or judge, and responding appropriately to what is being said.
Responding Mindfully – this can ensure a conversation is compassionate, that the response given is considerate to their feelings.
Being Observant – this includes paying attention and looking for signals that can assist in understanding what is being said and how their mood and emotions are about it.
Managing Silence – this is about giving the space needed to encourage people to explore their needs and feelings, enforcing the conversation is about the bereaved person.
Respecting Emotions – everyone reacts differently to all situations, making bereavement an isolating experience. Respecting emotions means we don't try to change or tell others how to feel.
Considering Perspectives – this is about attempting to see a situation from a point of view outside of our own, using what we have heard and observed to understand why they may be responding how they are.
Do you want to find out your compassionate superpower? Hospice UK have created a quiz to find out your compassionate superpower strengths with tips to help improve each of the six superpowers.