Ethan was inspired to raise money for Myton after one of our Community Fundraisers spoke in an assembly at his school, Newburgh Primary in Warwick. Straight away he set about organising a performance of The Wizard of Oz with his friends and family. From casting the show, sorting out costumes, designing tickets, painting props and sorting merchandise to sell, 6 year-old Ethan has worked hard to make sure the show was a success.
Ethan said of the show: "Rehearsals were really good and the show was too. I had to sing, act and say lines – I remembered everything luckily! I liked it all; I can't choose a favourite bit. My head teacher had a good time and won a raffle prize too.
"I wanted to raise £500 and I'm really proud of myself for raising more. We're thinking about doing Alice in Wonderland soon."
His sister, 4 year-old Emily took on the role of Dorothy's dog Toto and said her favourite part of the show was pulling the curtain back to reveal the Wizard. She now has her sights set on the role of Alice for the next performance they put on.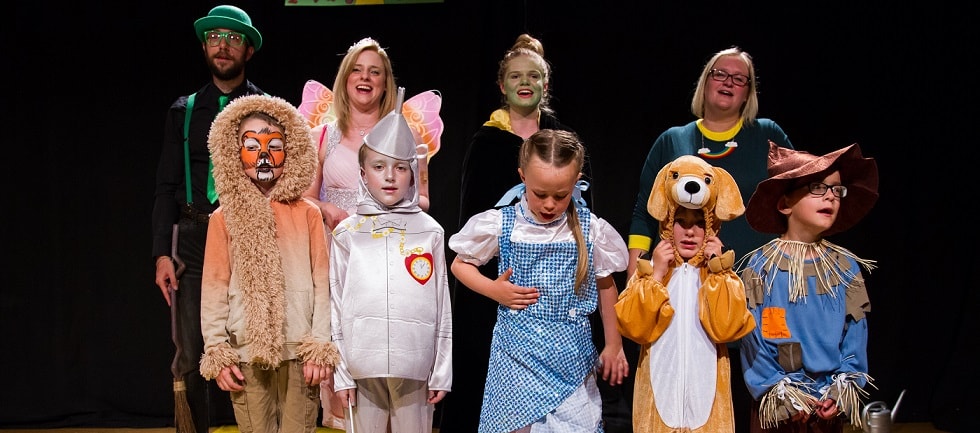 And their proud mum, Caroline, added: "There were five children and four adults in the cast. Their dad was musical director, I was general dog's body, a couple of the other mums helped to sort refreshments and then we had around 40 people in the audience. We probably could have done two performances with all the people who wanted to watch the show! We were in dress rehearsals right up until about two minutes before the show! They did so well remembering their lines and the songs.
"About ten minutes after The Wizard of Oz finished Ethan started planning the next one! He's already casting it and lots of people want to be involved. He also wants to take part in Glow in the Moonlight."
Everyone at Myton is thrilled and amazed by the money Ethan and Emily have raised and would like to thank them and everyone who was involved with the show from performing to behind the scenes, the audience and those who couldn't attend but still donated. Your generosity means we can continue to care for people in Coventry and Warwickshire.
Feeling inspired by Ethan and Emily? Find out how you could support The Myton Hospices by clicking here