The donation, which is part of a Major Capital Grant of £1.3m to over 250 hospices in England, Wales, Channel Islands and Isle of Man, recognises the contribution made by HRH The Prince Philip, Duke of Edinburgh to the service of the Crown and the life of the nation.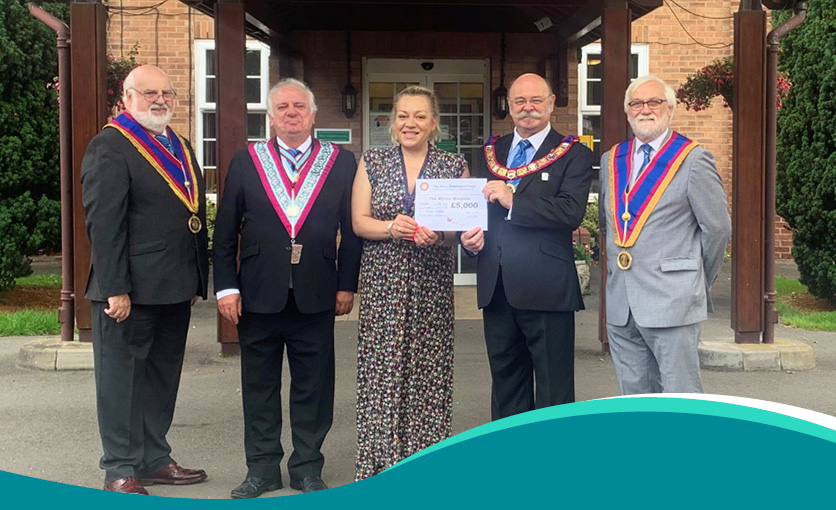 Phil Wills, the Provincial Grand Master for Warwickshire said:
We are absolutely delighted that the members of the Province have chosen to support The Myton Hospices. We are all aware of the toll that the pandemic has taken on charities across the country and hope that this small gift will go some way to help enhance patient care and provide improved facilities for those in need and their families.
Charlotte Ingram, Director of Income Generation and Supporter Engagement for The Myton Hospices said:
We are so grateful to receive this donation, it is vital for our inpatient care services. We would like to say a huge thank you to the Mark Master Masons of Warwickshire from all of us at Myton, our patients and their families.
At The Myton Hospices we believe that everyone matters for every single moment of their life and that treating patients with dignity and respect is more important than meeting targets. There are plenty of ways that you can support us with this from organising your own fundraising to joining our weekly lottery.
If you would like to find out more about how you can support Myton, please click here.
---
Dive in this autumn by taking part in our brand new event - Swim for Myton!
Swim one of our four water inspired distances, take on our Team Challenge or pick your own distance all to raise vital funds for The Myton Hospices!
Complete your swim any time between 1st September and 1st December 2021 at your local pool.
When: 1st September - 1st December 2021
Price: £5
Read the latest Myton news below...