Also known as the NC500, the route is billed as the ultimate road trip around the north of Scotland, showcasing fairy-tale castles, white sandy beaches, historical ruins and much more.
Completing the NC500 is quite an undertaking by car, but it is even more of a mission and achievement on a bike.
Which is exactly what George Silvester and Dan McLeod, did this summer to raise vital funds for The Myton Hospices, with friend Jack Masters providing the support car back-up.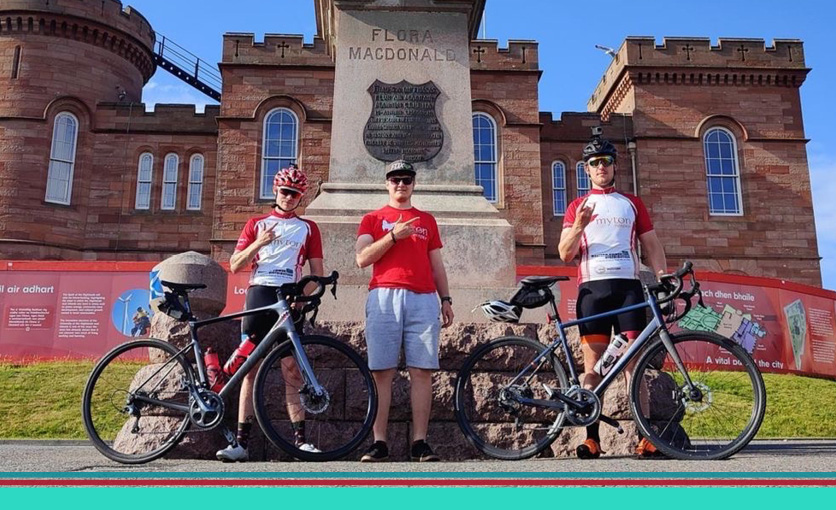 Challenge complete – the trio celebrate finishing the NC500 for The Myton Hospices and raising over £1,000 through their epic efforts
Completing the 520-mile route in just six days, and wild camping each night to ensure full enjoyment of the Scottish midges, George and Dan clocked up an impressive 42,728ft of climbing – the equivalent of Everest-and-a-half!!
And even more impressive – they raised over £1,000 for Myton ...
thanks to the generosity of friends, family and supporters inspired by their challenge.
George said:
We would like to say a huge thank you to everyone who has supported us, financially, morally and all between.

It was a fantastic six days with the most breath-taking views, roads and landmarks and we are really proud to have completed it and raised such vital money for Myton.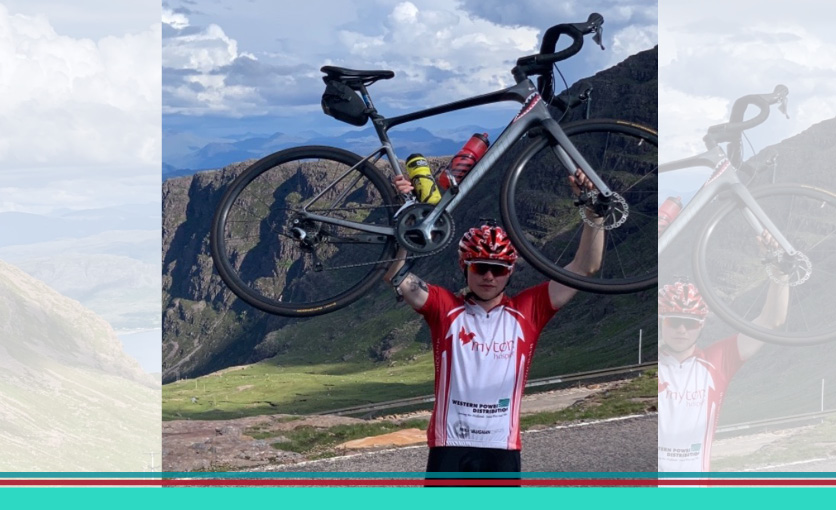 Taking on a mountain of a challenge for the cause
So what inspired the trio to take to the road for The Myton Hospices?
With all three young men being local, they have a mixture of first-hand experience of the amazing work and care provided by our teams and awareness through friends and colleagues across Coventry and Warwickshire who have been cared for by Myton.
George is fast becoming something of a seasoned campaigner for Myton, having previously completed a 24-hour cycle challenge for us – and most recently, on the back of the NC500 – having taken part in our Myton Cycle Challenge and won the title of Myton Champion, for the fastest time up Saintbury Hill.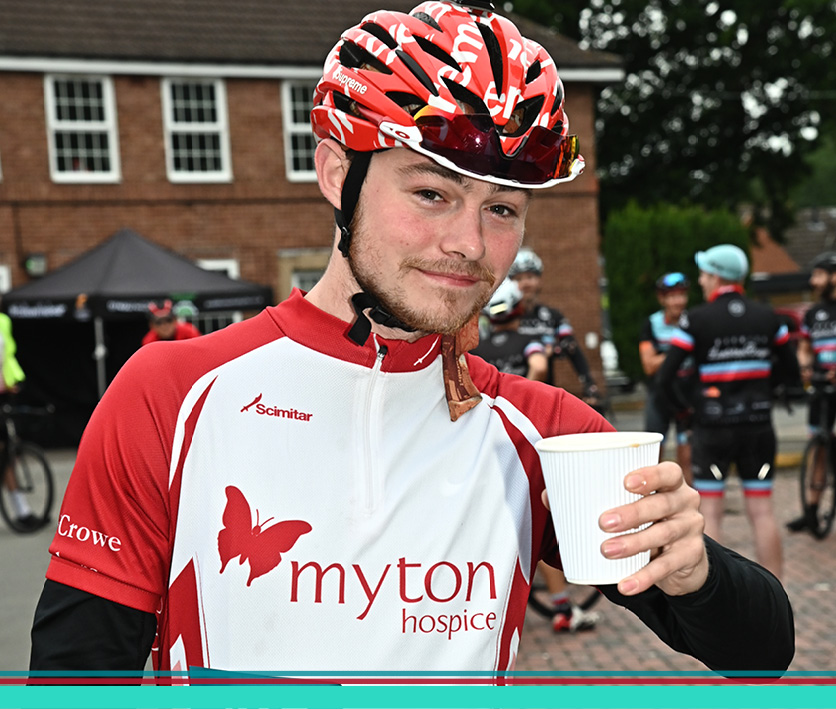 George Silvester pictured above, taking part in Myton's recent Cycle Challenge
Quite an achievement for a 25-year-old who, until 18 months ago, had not really set foot on a bike in earnest, but has clocked up over 10,000 miles in that time!
George said:
I started cycling 18 months ago as I was going through a really difficult time with my mental health and I needed something to help, which it has done so amazingly.

It frees my mind and channels all that adrenaline into a sport I now love.

And it's even better that I can use my new found love to take on some epic events and help raise money for such an amazing cause as Myton which has provided such support and care for people across the region – I am truly blessed to have represented them and to have been able to complete this challenge.

My highlight of the challenge was finishing it… I just couldn't believe we had done it and have never felt so accomplished.

A huge thank you to everyone who supported us in every way, not just financially – we are so proud to have raised over £1,000 for Myton, which will be put to the very best use.

I hope our efforts, our challenge and our fundraising will inspire other people to take on a challenge of their own for Myton.
Dan Macleod added:
I'm so proud to have supported Myton with our challenge – it's a charity that has given end-of-life care to friends and family, so is a cause close to my heart and one I'm delighted to have been able to give something back to for all its amazing work and efforts.
Support driver Jack said George had been such an inspiration for hard work the past couple of years and when he found out he wanted to cycle the NC500 for Myton he immediately offered to be the support driver.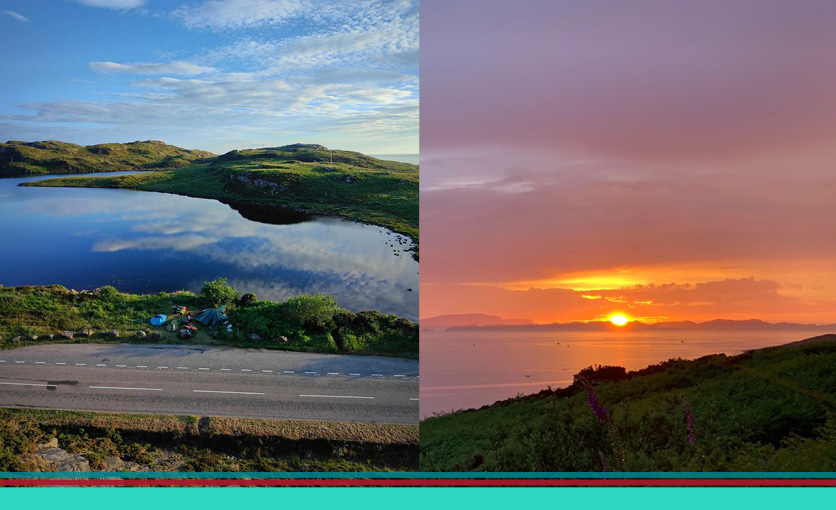 Not a bad place to camp for the night! The trio wild camped in the Scottish Highlands throughout their challenge
Jack added:
It was worth every moment to help them help such a wonderful local charity.

George and Dan aced the miles whilst I had to look for a campsite in the picturesque Scottish Highlands and be there if they needed anything for the bikes.

We'll never forget the experience.
Friend Ewan Durrant, whose own family experiences with Myton, helped inspire the NC500 challenge for the trio, added:
We chose to raise money for The Myton Hospices because they provide a service that is selfless by nature. My family, my friends and my friends' families have been so lucky to have them there when they needed it most.

I can't take credit for choosing the NC500, or the tremendous effort from George, Dan and Jack to complete it, but I am proud of their achievement.

I think it was important for them to take on a feat that reflects the skill and courage The Myton Hospice's staff show on a daily basis.
We can't thank them all enough ...
for completing this epic challenge and raising vital funds so we can continue to provide our services free of charge. You're all amazing!
---
Dive in this autumn by taking part in our brand new event - Swim for Myton!
Swim one of our four water inspired distances, take on our Team Challenge or pick your own distance all to raise vital funds for The Myton Hospices!
Complete your swim any time between 1st September and 1st December 2021 at your local pool.
When: 1st September - 1st December 2021
Price: £5
Read the latest Myton news below ...