Why did you decide to volunteer with The Myton Hospices?
My niece, Collette, was a cook at Warwick Myton Hospice and she said the shop was opening and asked if my sister, Jo, and I would be interested in helping. We started on the day it opened.
How have the shop and Myton changed in the last 25 years?
It has all changed a lot, definitely for the better! I've seen the shop change a lot over the years.
What is your favourite part of volunteering with Myton?
I'm just so glad to be helping the people who use the hospice's services. I shall have to retire soon – I'm 90 next year but I'll take it as it comes.
What would you say to someone who wants to volunteer?
I would say 'go for it'. It gets you out and about and you meet all sorts of people.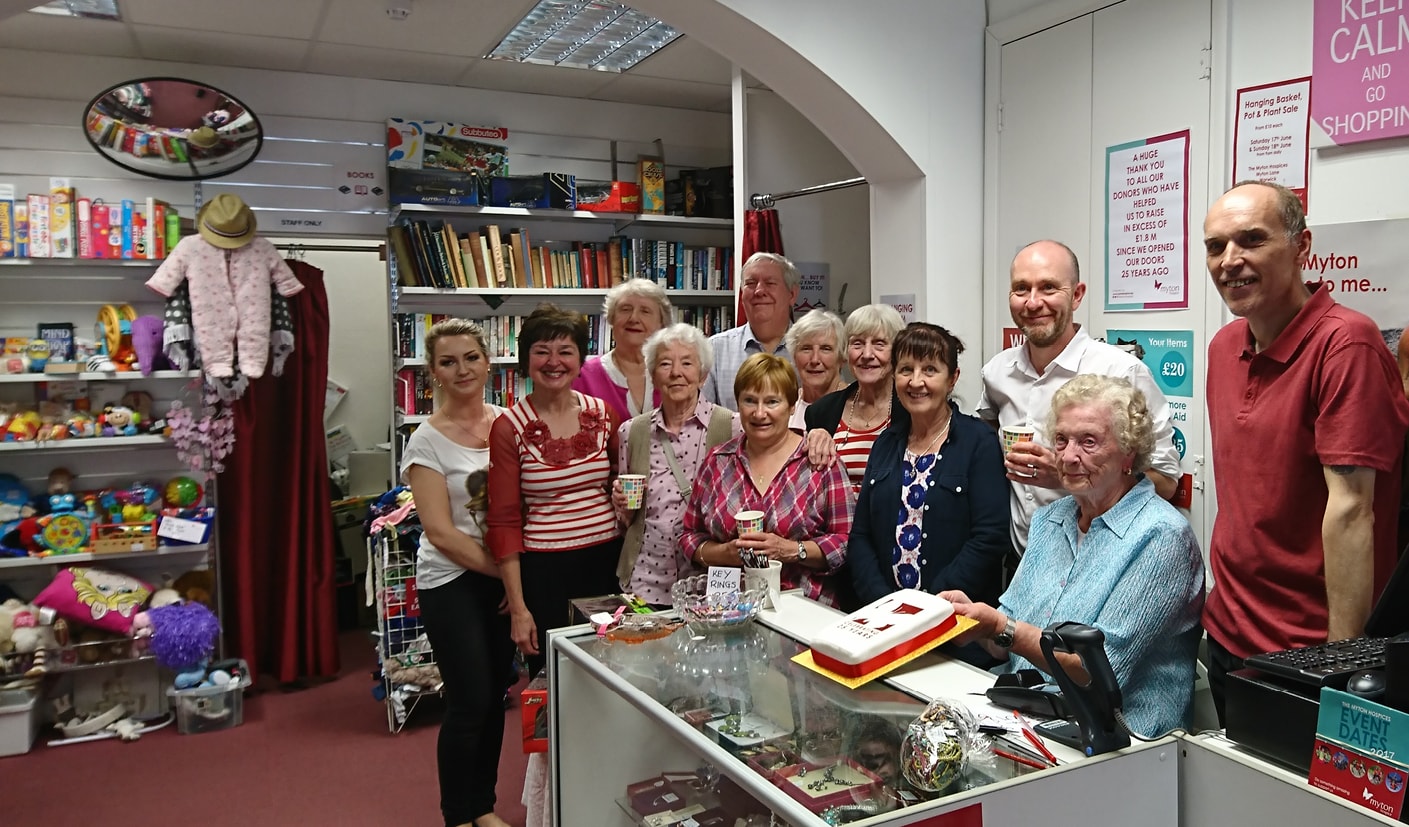 And shop manager, Kingsley Hasler, was excited to celebrate the shop's special birthday.
Why did you decide to work in a charity shop?
I've been with Myton now for 11 years and previously worked for Help the Aged. I came to The Myton Hospices because it's a much smaller, local charity.
How long have you worked at the Leamington Spa shop on Warwick Street, and how has it changed in that time?
I manage the Leamington shop on Warwick Street and the Warwick shop. Leamington has changed so much since I first started – it used to be very green and had a lot of trellis fencing in the shop for displaying things. It has been bought well up to date now and, like with all charity shops, really has had to move with the times.
What is the strangest thing you have seen on sale?
We've had false teeth and lots of dead mice and spiders in the bags! And even a few rude things donated which we haven't put out to sell!
What is your favourite item which has been donated?
I couldn't choose a favourite item … we often get expensive and designer pieces which I'm really excited by when they sell for a high price. We have just sold a Wedgewood tea service set for nearly £500!
We've not sold anything for thousands of pounds, but we often get antique items at the Warwick shop – people are so generous with their donations to us.
What would you say to someone thinking about becoming a volunteer in one of our shops?
We're always in need of volunteers! It makes my job and my workforce's job much easier when we have lots of volunteers! We welcome anyone who wants to volunteer with open arms.
At Leamington we have some volunteers who have been with us for over 20 years, and others who have been here for17 or 18 years too. They're all very loyal, through thick and thin, and never let me down if I need them for extra shifts. And at the end of the day, we're all friends. We do a lot of social things outside of the shop – we're like a little family.
---
Could you volunteer at one of our shops?
Myton is lucky to have an invaluable team of almost 1,000 volunteers without whom, we would not be able to provide the services that we do.
If you are inspired by Vera and could volunteer at Myton please get in touch through the button below.