79 year old Brian had been telling staff at Coventry Myton Hospice about his love of Leicester City and his family had brought in some of his football memorabilia to help make him feel more at home. Brian has been a season ticket holder for more than 50 years and still has a season ticket despite sadly no longer being able to attend.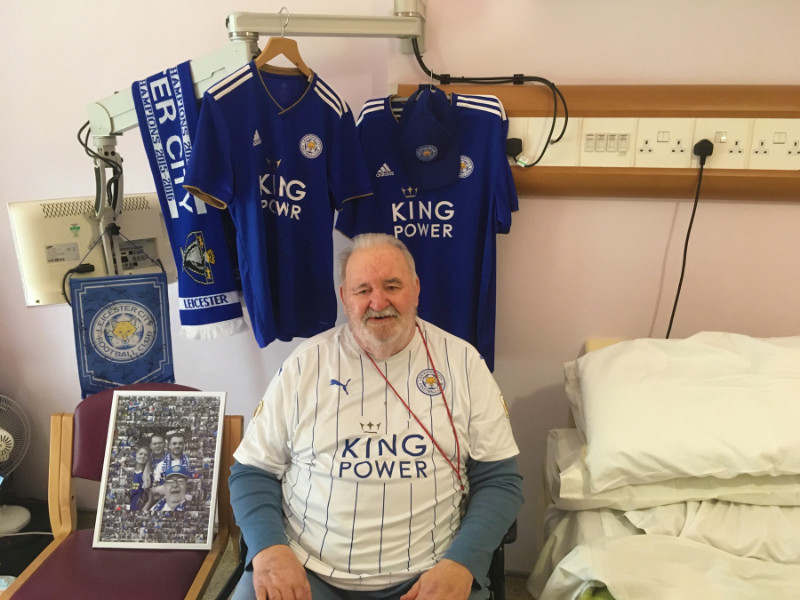 One of the consultants on the Inpatient Unit, Dr Jo Poultney, spoke to Brian about trying to arrange for him to go to one more match but Brian felt it would be too much for him and those around him to arrange with his deteriorating health.
Dr Jo really wanted to cheer Brian up and thought if he can't go to Leicester City then we will bring Leicester City to him!
Brian mentioned that he was known as 'Big Brian' at the football ground so Dr Jo used that as the subject line when she emailed the club. Within a matter of minutes she had a response saying that they knew Brian well and would love to arrange a surprise visit at Myton.
Dr Jo and the team let Brian's family know so that they could be there but they were all sworn to secrecy. On Monday 18th September club ambassador and former player Alan Birchenall stunned Brian with a surprise visit and signed shirt!
They spent over an hour and a half reminiscing and Brian's spirits were well and truly lifted.
Brian said
I didn't know a thing it was a complete surprise and everybody kept it quiet. Dr Jo is wonderful, I've told her that I'm going to write to Buckingham Palace to say she should be made a Dame!
Brian went on to say
Everybody is perfect, there isn't anybody I don't love; they're all lovely, it's a certain kind of person that works here. I admire them all.
Brian is a brilliant character and we are delighted to have been able to arrange this for him.