Taking care 'Beyond the Hospice walls' is a key focus for The Myton Hospices as we prepare for a future beyond the Coronavirus Pandemic.
And that future has received a massive boost following a £100,000 donation from Barclays to purchase three new specialist vehicles.
The Barclays COVID-19 Community Aid Package saw numerous charities and charitable organisations across the country apply for just 100 donations.
And Myton is delighted to announce that it has been chosen as one of the lucky 100.
We have purchased two new Toyota Rav 4 self-charging hybrid 4x4s, designed to ensure nurses and all clinical staff are able to visit patients in their own homes whatever the weather, and we have a new Wheelchair Adapted Vehicle to help transport patients to and from vital services on order.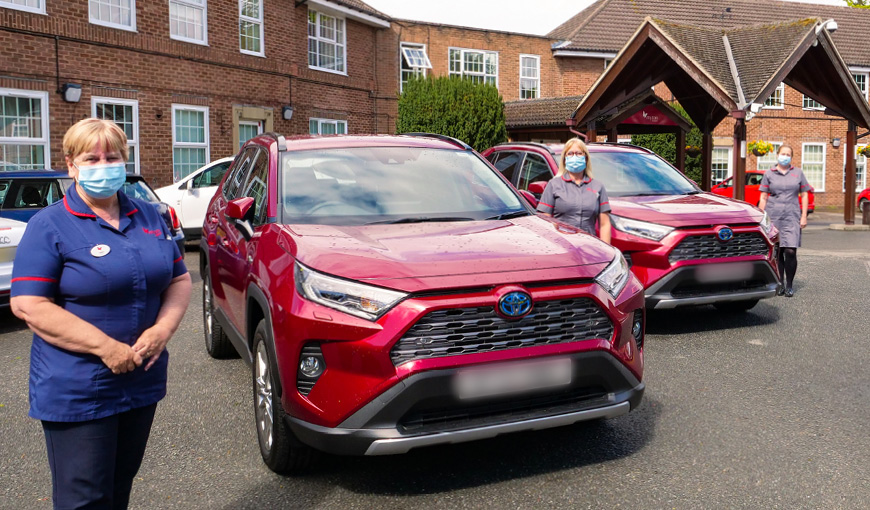 Myton CEO Ruth Freeman welcomed the amazing donation which will have a huge impact on our ability to provide services and care to patients in and across the community.
She added:
A huge, huge thank you to Barclays for this truly amazing donation at what is a future-defining time for The Myton Hospices.

While we will not take our focus off providing end-of-life care in our Hospices, Myton has a long-term and long-standing goal to further improve the care and support it offers patients and their families beyond the hospice walls, which has only been enhanced and re-focused by the Coronavirus Pandemic.

The donation from Barclays to purchase these new vehicles will play such a huge part in these plans.
To be in with a chance of securing one of the donations, charities had to propose a specific project, which would support vulnerable people and communities impacted by Covid 19. General staffing and running costs were not permitted.
Myton's application focused on the need for more vehicles to enable more nurses to meet the surge in demand seen for our Myton at Home service during the pandemic.
And the vehicles chosen will have further-reaching benefits too.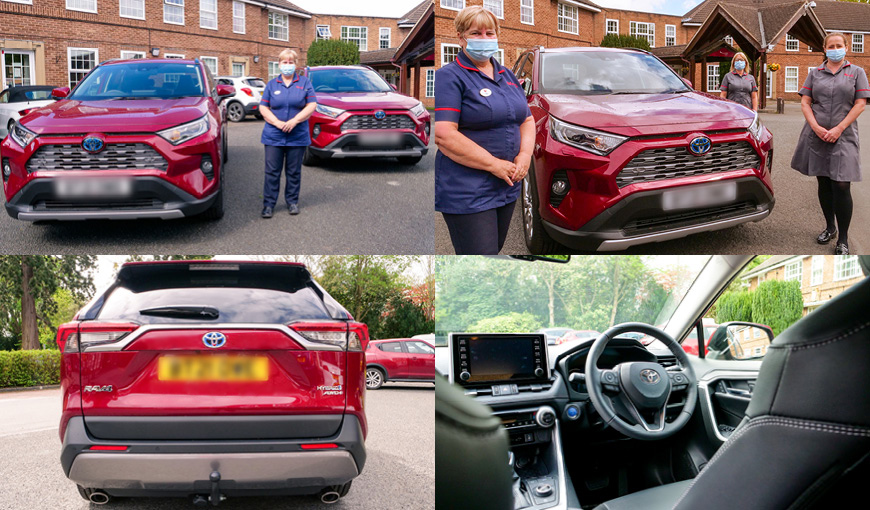 Two are...
self-charging hybrid 4x4s, which will reduce future costs, reduce Myton's carbon footprint and vehicle pollution and, in turn, benefit the wider population of Coventry and Warwickshire.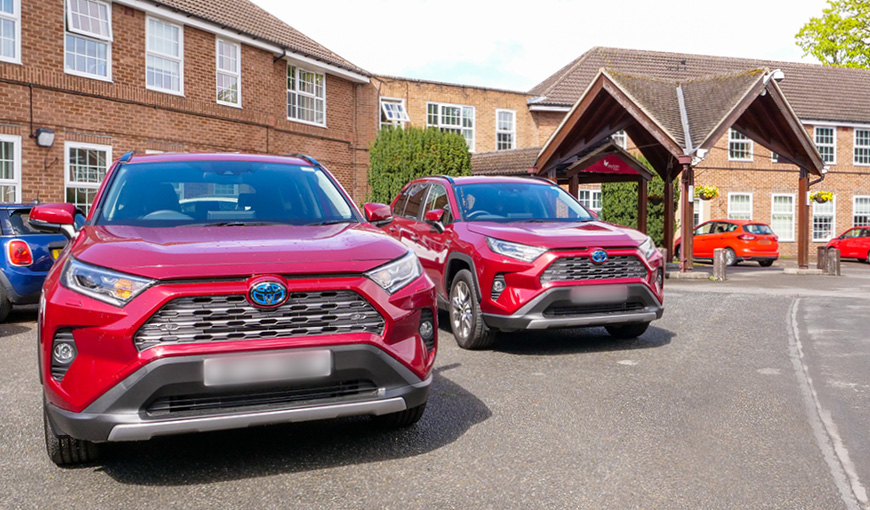 Being able to reach patients in all weathers was also a huge part of the decision to buy the vehicles. During inclement weather, Myton has regularly had to turn to local 4x4 owners or businesses to help it transport nurses to some patients.
The final vehicle, a Wheelchair Accessible Vehicle (WAV), will allow staff and volunteers to safely transport any of Myton's wheelchair-using patients to appointments and vital services.
Nigel Higgins, Barclays Chairman, said:
COVID-19 has created an unprecedented social and economic impact in the UK, with many experiencing greater hardship due to the crisis.

Incredible charities, such as The Myton Hospices, have been playing a vital role in the UK's response to the pandemic, ensuring urgent help reaches those most in need of support.

As a bank we have been doing all we can for our customers, clients and colleagues, and we hope that by partnering with The Myton Hospices, and many other charities across the UK, collectively we can ensure that as many people as possible in the communities in which we live and work are supported through this crisis.
---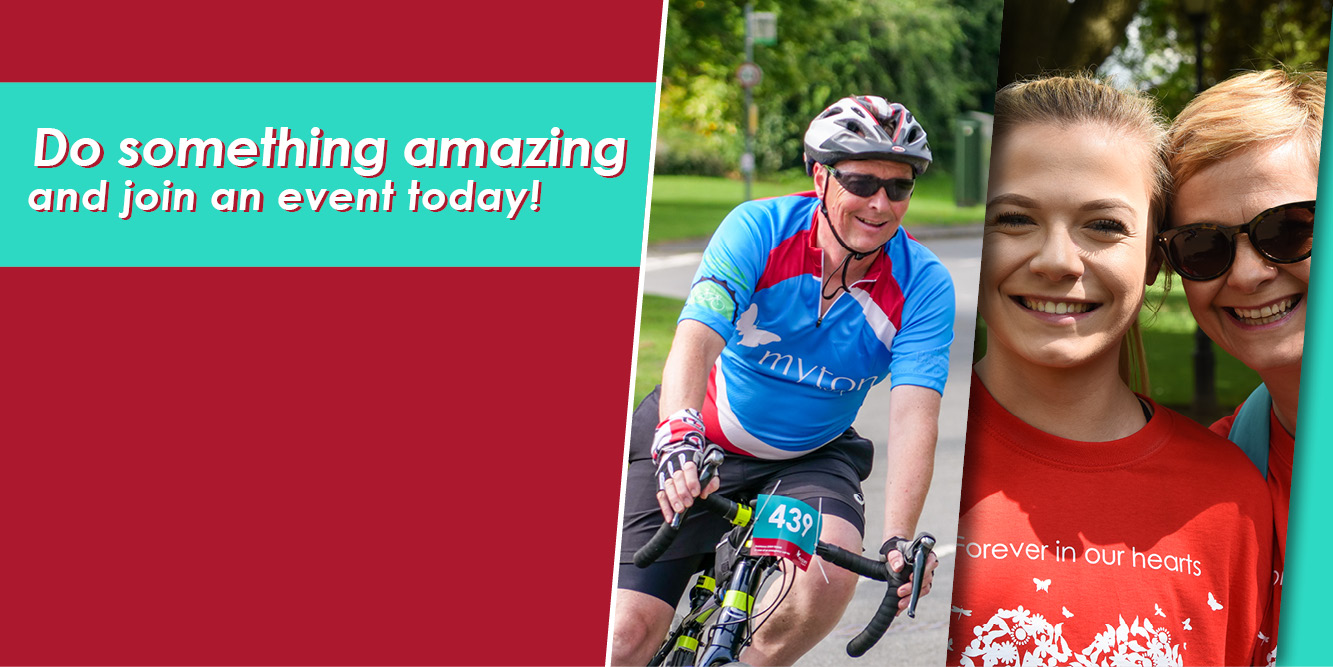 Could you jog, walk or run 5km or more for Myton? Ever wanted to know how it feels to jump out of a plane at 12,000ft?
Find out what the latest and upcoming Myton events are online today by clicking here.
---
About Barclays' UK Charity Partners...
Barclays £100m COVID-19 Community Aid Package is supporting charities that are helping vulnerable people impacted by COVID-19, and the associated social and economic hardship caused by the crisis.
Alongside matching colleague donations and fundraising efforts, Barclays is partnering with a number of charities in the UK, Americas, Asia and Europe, delivering help where it is needed most. You can find the latest list of charity partners here.
Find out the latest Myton news below...