In October 2020, tech consultancy Tisski – who are based in Stoneleigh – donated £2,000 to The Myton Hospices as part of their ongoing charity initiative, which sees a different employee choose a charity to receive a set donation each month.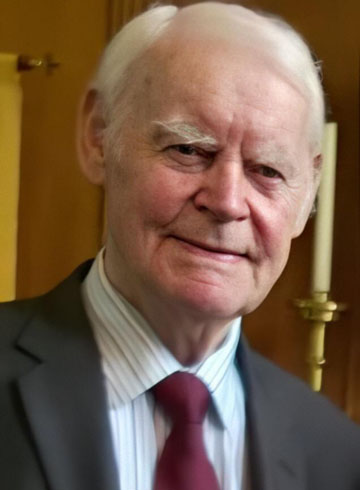 Tracey's Father pictured above
For Tisski's Senior Account Manager, Tracey, Myton is a cause she holds close to heart. Tracy said:
When doctors confirmed my late dad had to go into palliative care, we were grateful to be given the opportunity for my dad to spend his last few days at Myton Hospice in Coventry. The volunteers, doctors and nurses were amazing and so very caring.

All the staff - from the volunteers to the nurses and doctors - were just amazing, thoughtful and so very caring for my Dad. They allowed all of his family to be with him when he passed, they cared for him as if he was one of their own relations, and this gave my Mum and family great comfort that his last few days were made so lovely and peaceful for both Dad and us as his family. We will forever be grateful for this. It was so very sad, but very peaceful too, and those last few days we will cherish so much.

The company I work for, Tisski, believe charitable giving is so important, and I had the opportunity to choose a charity to receive a £2,000 donation. Of course, I didn't hesitate to put forward Myton; they truly deserve this and I hope it will help to go a little way during these testing times.

My CEO, Anna Assassa, understands that donations mean so much to charities like Myton, especially in difficult times and Anna was very touched to hear about how well they cared for my Dad.
For several years now, charitable giving has been an important part of Tisski's organisational culture. Their CEO, Anna Assassa, says:
Donations mean so much to charities like Myton Hospice, especially in difficult times. It's incredible to hear about how well they cared for Tracey's dad and to be able to give a little something back in return is a real honour.

At Tisski, we're very proud of our charitable nature. We've made regular donations for several years and would greatly encourage other organisations to do the same. Allowing your employees to choose charities is a fantastic way to support causes you may not have even heard of and in doing so, you uncover stories like Tracey's and support the people who essentially help your business make money.
We expect to see losses of at least £2 million in voluntary income this year due to the coronavirus pandemic.
Whilst we have made cost savings of £1.5 million by streamlining support functions in order to protect services for patients and families we still have a funding gap of £500,000.
We estimate that it will take up to 2 years to build income back to pre-Covid levels so by the end of next year losses could amount to over £1 million.

Read the latest Myton news below...