Warwick Junior School recently took on an extraordinary challenge to raise vital funds for Macmillan and The Myton Hospices.
With the support of special guest Gary McKee, the inspirational marathon runner who defeated 365 marathons in 365 days, students and teachers set out to tackle a sponsored run.
Year 3 and 4 students completed one lap around the school grounds, covering over 2km, while Year 5 & 6 extended this distance to two laps. In a show of solidarity, two brave teachers, Mark and Matt, joined Gary McKee running 20 laps from 7:15am onwards.
Each student was given the goal of raising £50, collectively aiming to raise £12,000 for Macmillan and Myton.
However, the school's fundraising efforts exceeded all expectations, raising a total of £16,204.14 – with £8,102.07 going to The Myton Hospices!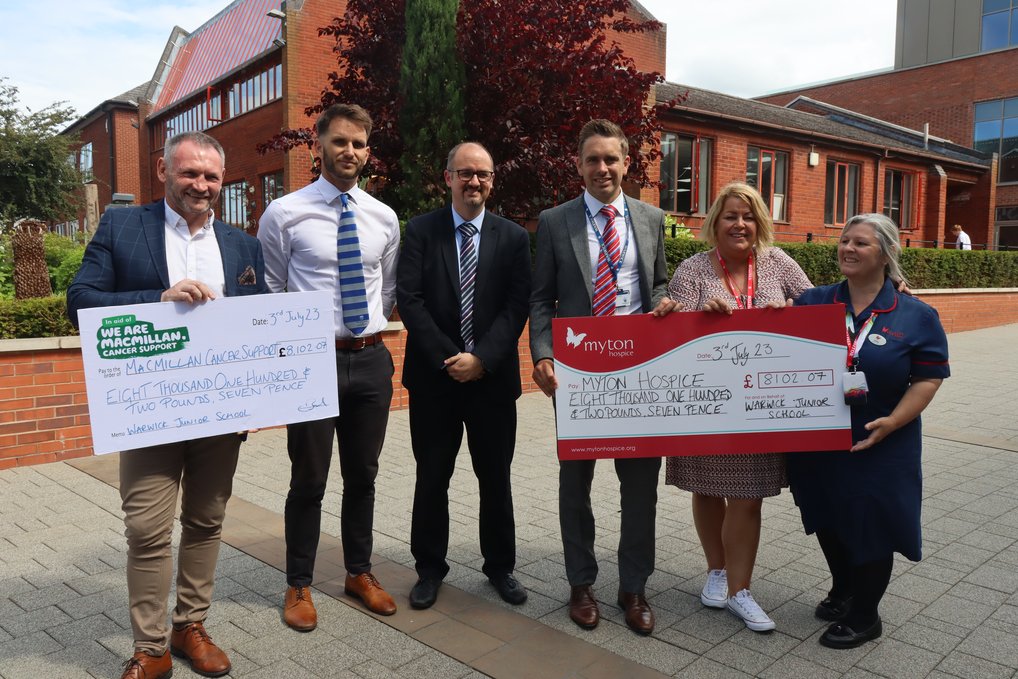 Mark expressed his pride, saying:
We are so proud of the charitable spirit at the school, most of them have really stepped up to the challenge.

Some students have gone to town and have raised an incredible and inspiring amount!

Myself and Matt have raised over £500 each to add to the total.
This isn't the first challenge the students have taken on. Just a few weeks prior, they organised an aquathon.
Mark added:
We had 222 boys, out of around 260, take part in the aquathon.

Given this was an after-school event and everyone has various commitments, we are so pleased with the turn out.

Every student (except those injured!) took part and raised vital funds for Myton and Macmillan this time!

In addition to our locality and ties to The Myton Hospices, one of our esteemed colleagues sadly spent her last few days at Warwick Myton Hospice at the end of last year.

She taught at Warwick School for 16 years and had such a positive effect on all the students.

A number of staff members took part in last year's Santa Dash for Myton and our Micro Choir sang beautifully at last year's Light Up A Life as well.
Our very own Louise Careless, Community Fundraiser, and Tracie Beechey, Deputy Sister, attended their fundraiser and speech day to accept the generous cheque.
Lou said:
We are ever so grateful for the support from our local community.

Fundraisers such as these makes such a difference to people living with terminal illnesses, and their families, across Coventry and Warwickshire.

Thank you from everyone at Myton!