Debbie and her family are fundraising veterans for many charities, including The Myton Hospices.
Debbie's dad, known as GeeGee to his granddaughters, was diagnosed with advanced pancreatic cancer in spring 2020. This understandably shattered the family.
Debbie said:
He was always the strong one, a serving police officer for 40 years. He was also physically fit and worked hard on his allotment everyday. Coming to terms with his diagnosis was difficult, but we pulled together and he tackled it head on.
That summer, Kimmy's school ran a challenge to keep the children fit and moving throughout the holidays. The challenge was to run 5km to raise vital funds for The Myton Hospices and Cancer Research UK.
Kimmy was a keen runner, but had experienced problems with her toes so often found running painful. However, she decided to push through and take on the challenge and more!
Kimmy felt that one 5km run was not enough so pledged to run a 5km run each week over the 6-week holiday!
A very kind neighbour offered Kimmy an incredible sponsorship. He knew Kimmy could run 5km so decided to challenge her to 6km, a distance she had never run before, in exchange of doubling his donation!
Of course Kimmy decided to take on his challenge!
Kimmy got started with her runs each week. Even when she wasn't feeling it or had slight injuries, she pushed through and kept trying!
Kimmy raised an amazing £500 for The Myton Hospices and Cancer Research UK.
Debbie said:
As a family, we could not have been prouder!
In 2021, the family was shattered once again when husband and father, Ben, was diagnosed with a brain tumour. It was aggressive and advanced and the family were left feeling hopeless.
Ben underwent a successful de-bulking surgery and started an intensive 6-week radiotherapy programme, then chemotherapy.
Debbie said:
Throughout all of this, Ben remained upbeat and positive, continuing to keep fit and active both physically and mentally.
Kimmy wasn't the only keen runner in the family.
Ben and Kimmy loved having fun together and decided in 2019 to take on our festive Santa Dash. They raised a few hundred pounds and thoroughly enjoyed the event. Aged 12, Kimmy challenged herself and managed a sprint finish to beat her dad across the finish line.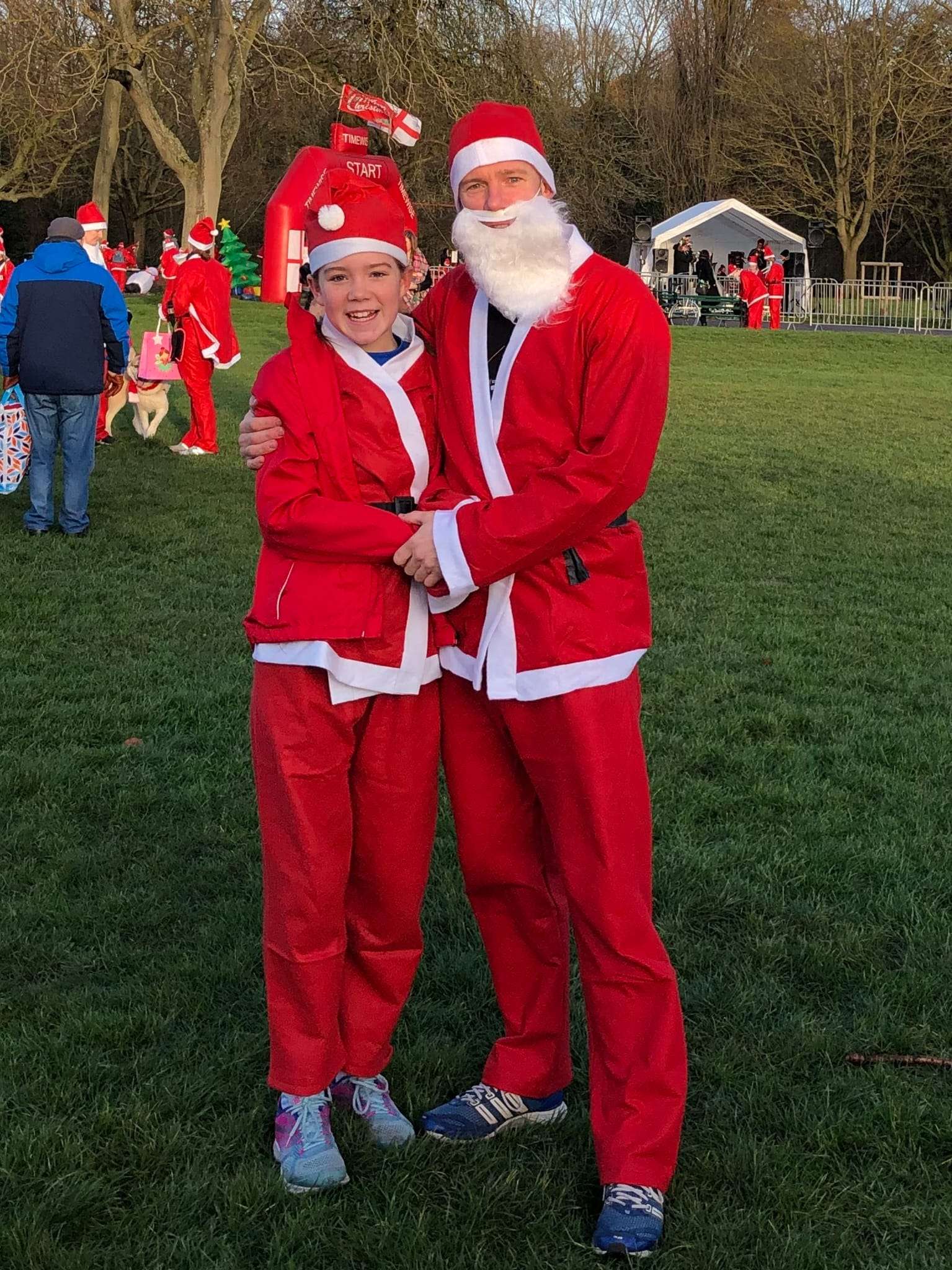 Debbie said:
I had met Ben when he moved to the area and joined our local hockey club, where I was also playing.

Hockey was such a big part of our lives and the sport, along with our hockey community, definitely helped to keep up positive throughout his battle.
Ben was keen to raise awareness and completed a number of running and cycling challenges to raise much needed funds for Brain Tumour Charity, totalling over £20,000 over the past 2 years!
Debbie said:
At this point, The Myton Hospices hadn't crossed our minds as we hadn't contemplated it becoming an option.

Some might say we were naïve, we always believed we would live life and think positive. That's the way we got up each day and had fun for as long as we did!
However, Myton's services entered the family's life when in June 2022, Debbie's dad, GeeGee, was admitted to Myton as he was struggling to feed at home and was becoming weaker by the day.
Debbie said:
Myton staff looked after him with the utmost respect and care. Dad was not an easy man to care for, but they absolutely gave him very best.
GeeGee died on 1st July 2022.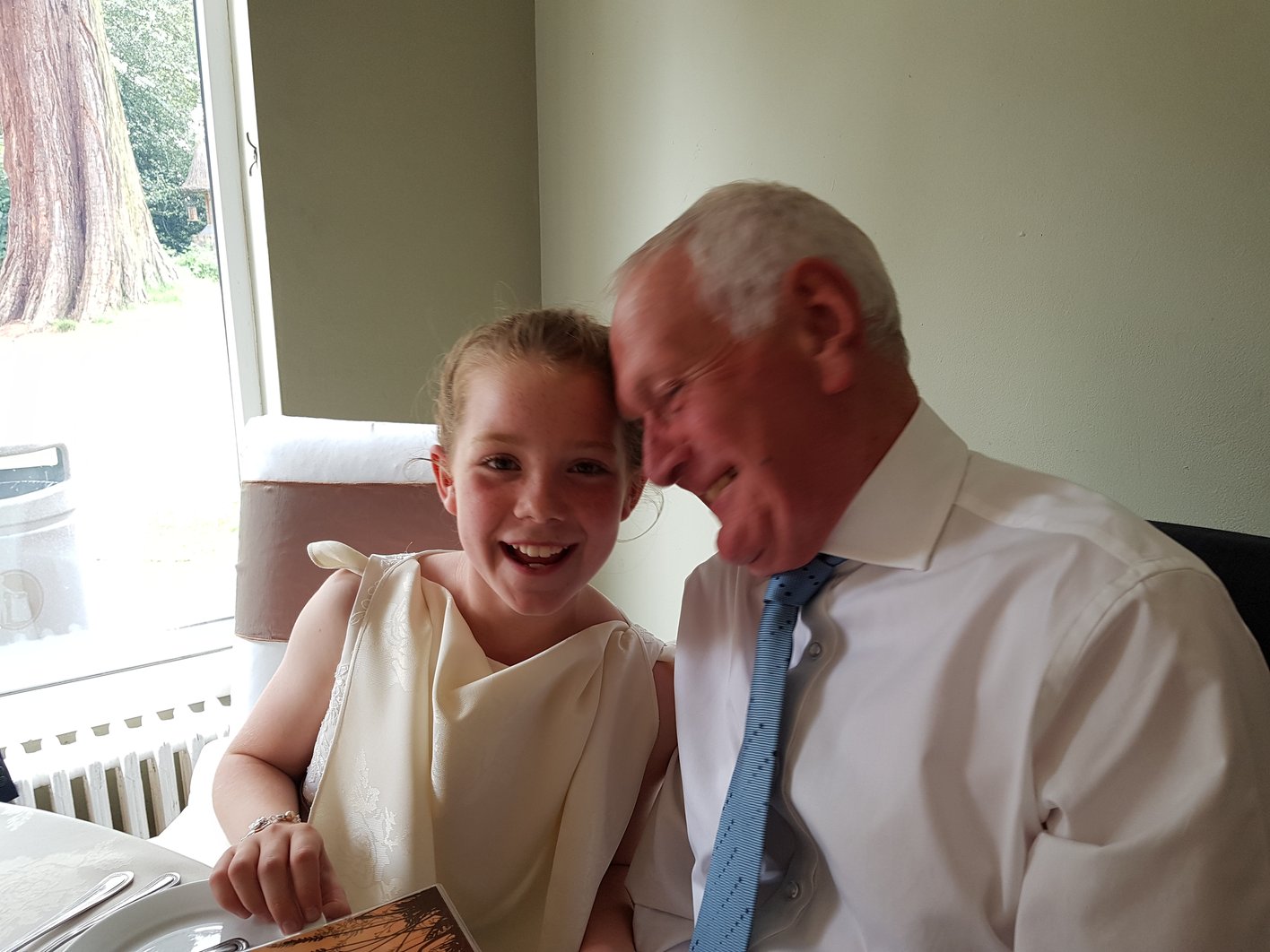 Kimmy wanted to take part in our 2022 Santa Dash with her dad, similar to their 2019 challenge. Ben would've loved to take part with Kimmy.
Sadly, this wasn't going to be an option as Ben's health deteriorated in the summer of 2022.
Debbie said:
He rapidly went downhill and it was hard for the girls to see. We were trying to keep everything together and give Ben the best quality of life that we possibly could.

It eventually got to the stage that Ben wasn't safe at home and we reached out to Myton.

They were incredible. They completely understood that we were struggling and went out of their way to help straight away, offering the Myton at Home service in the first instance.

But very quickly it became apparent that Ben needed more support and a place for him as an inpatient was found.

We were hopeful that they could adjust his meds to stabilise the symptoms he was experiencing, but sadly this wasn't the case and he needed to stay at Myton to ensure his symptoms could be managed and he was safe and pain free.
Ben was popular amongst his friends, family and colleagues, and Debbie became his personal assistant to organise around the clock visits with each and every one of them.
Debbie said:
Every friend, family member and colleague that visited commented at how sensitive, caring and kind the staff and volunteers were at Myton.

Not only did they give Ben the very best care and support, they offered this to all who visited.

On the occasional hours that Ben didn't have any visitors and wasn't resting, there was always somebody there to enjoy his "dad joke" sense of humour and to help him eat, which after his family, was his 2nd biggest love.

Staff were astonished at how much Ben would consume on a daily basis, but always ensured he was well fed at all times.
During his final days, Ben's room was filled with so many who loved him as the family prepared for the worst.
Debbie said:
I can genuinely say from the bottom of my heart, I felt I had developed another family whilst Ben was at Myton and I know Ben considered them all friends.

He made friends wherever he went, no matter the situation, circumstance or location, and Myton was no different!
Ben died on 26th October 2022.
Ben's funeral was dedicated to focusing on celebrating his life, with friends dressing in bright colours and many of their hockey family donning fancy dress, something Ben always joined in on with a passion.
The family opened a donation page in memory of Ben, with generous donations totalling £2,000, with half going to The Myton Hospices, showing just how much Ben was loved.
Debbie said:
Dealing with the loss of Ben hit us hard, but Kimmy was not going to let Santa Dash 2022 pass her by and now Ben was no longer with us, it fell to myself to run it with her.
The pair got started with their sponsorship and were blown away by the love and support they received from their friends and family.
Everyone who knew Ben and our family were truly touched by him and his fighting spirit, alongside Kimmy's desire to fundraise so soon after her dad's death.
Their JustGiving page raised and outstanding £3,580, including donations from friends, family and colleagues from contacts and companies within the construction industry, where Ben had focused his 25-year career.
On top of this total, colleagues and friends at ISG, a former employer of Ben's, also contributed to their fundraiser. They set up a JustGiving page for their Santa Dash challenge and raised £1,800 and match funded this, totalling £3,770 in memory of Ben!
This incredible support took Debbie and Kimmy's total to an amazing £7,350!
Debbie was dreading keeping up with Kimmy on the run as due to losing Ben and suffering an injury, she hadn't trained quite as she hoped.
But waking up to a festive snow scene on the day of the dash, Debbie and Kimmy joined fellow Santa Dashers at the magical scene at Victoria Park.
Debbie said:
Ben loved the snow, so I really felt as if he was there with us.

Kim was inspirational. She ran by my side every step of the way, filling me with positivity and giggles.

Friends and family were able to join us and witness the sprint finish I was dragged into (quite literally!) and nothing could put a value on the huge hug we shared at the end!
Debbie, her daughters, and their friends and family have pledged to continue raising funds and awareness for The Myton Hospices.
She said:
We will continue to do whatever we can to raise funds for Myton to ensure the staff have the funding in place to guarantee they can deliver the care and support that so many families currently need and sadly will need in the future.
The family's friends have pulled together a team for Tough Mudder in June with over 80 members, raising funds for Brain Tumour Charity and The Myton Hospices.
Kimmy and her sister are planning on taking on the Inflatable 5k in October and Debbie is even planning on conquering our Skydive challenge in September!
She said:
We are forever proud of Ben and GeeGee and I have no doubt they are looking down on the girls and I, forever proud of us!
We would like to say a huge thank you to Debbie, Kimmy and their friends and family for raising vital funds and awareness for Myton.
Could you help support The Myton Hospices to ensure we can continue to deliver our care free of charge?
We are a charity and every year we need to raise £10.5 million of the £13.25 million we need to support the people of Coventry and Warwickshire.
£30
is the daily upkeep cost of our relatives accommodation
£56
could fund two hours of specialist nursing care
£90
could fund three children's counselling sessions
£112
covers the cost of a patient's meals for one week