Trish Matthews, aged 67, was diagnosed with lung cancer in the Summer of 2020...
After being given the devastating news that her cancer could not be cured she started chemotherapy and immunotherapy. After her second lot of treatment Trish developed sepsis and was taken to the Intensive Care Unit at University Hospitals Coventry and Warwickshire where she was put into a medically induced coma and put on a ventilator.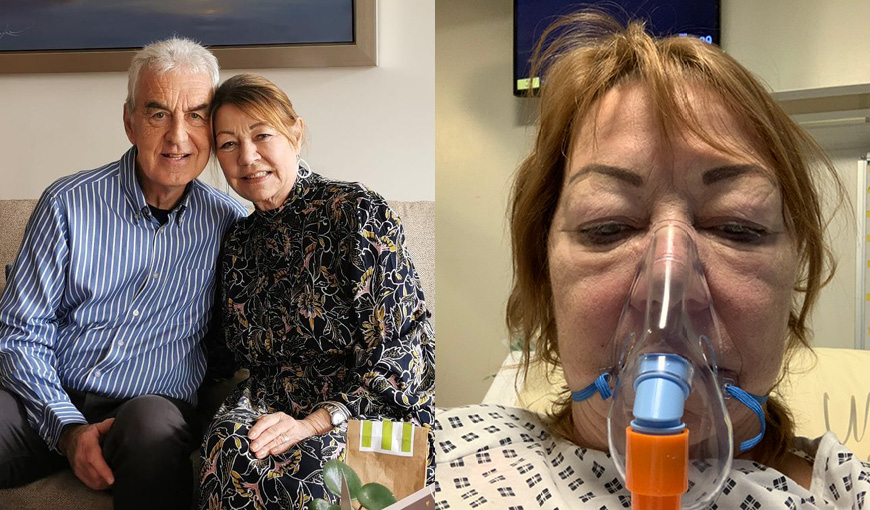 Due to Covid-19 her family weren't allowed to visit and on 23rd December they were told that Trish was not responding...
her organs had failed & it was suggested that Trish was admitted to Myton. She later discovered that hospital staff didn't expect her to live for more than a couple of days.
Trish arrived at Warwick Myton Hospice on Christmas Eve; her son, daughter and husband met with one of the doctors and were advised to let her rest for a couple of days and see how her body would respond. Trish was still in an induced coma and doesn't remember much from the first few days of being at Myton but her family were able to see her. Her husband said they immediately had complete trust in the doctors and nurses looking after her.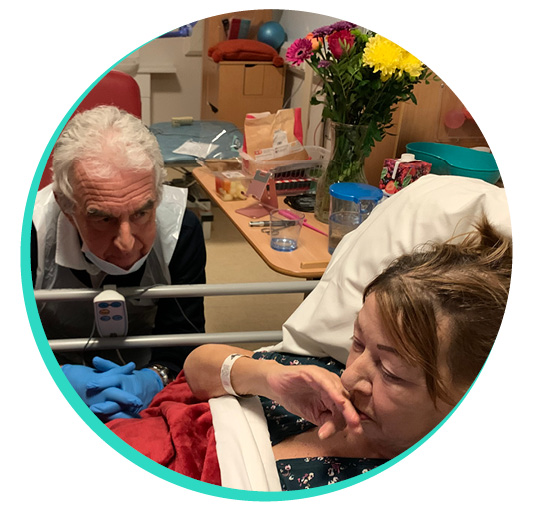 When Trish regained consciousness she still had an infection and was completely paralysed but she recalls waking up to a Myton nurse in a Christmas hat.
On New Year's Eve the Physiotherapy and Occupational Therapy team started to work with her on regaining some of her mobility & independence.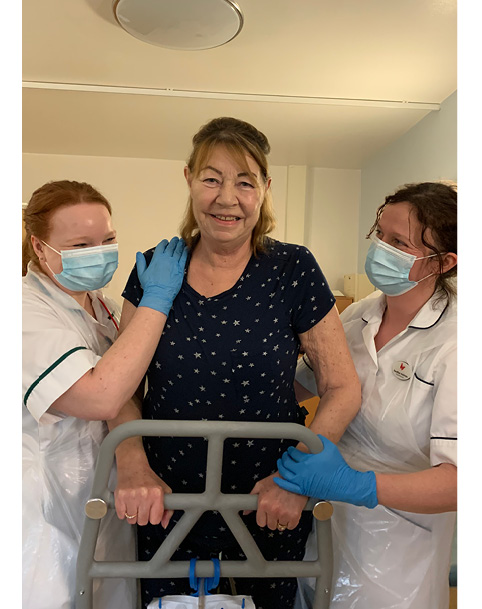 At this point Trish couldn't move even to feed herself.
The team worked with her on strengthening her muscles and regaining some movement, every day, twice a day. Trish could only be moved with a hoist and the team took the therapy plinth into her room to progress her exercises.
They worked on getting her independent for discharge home and achieving her goals of gaining some mobility to enable her to undertake her own personal care.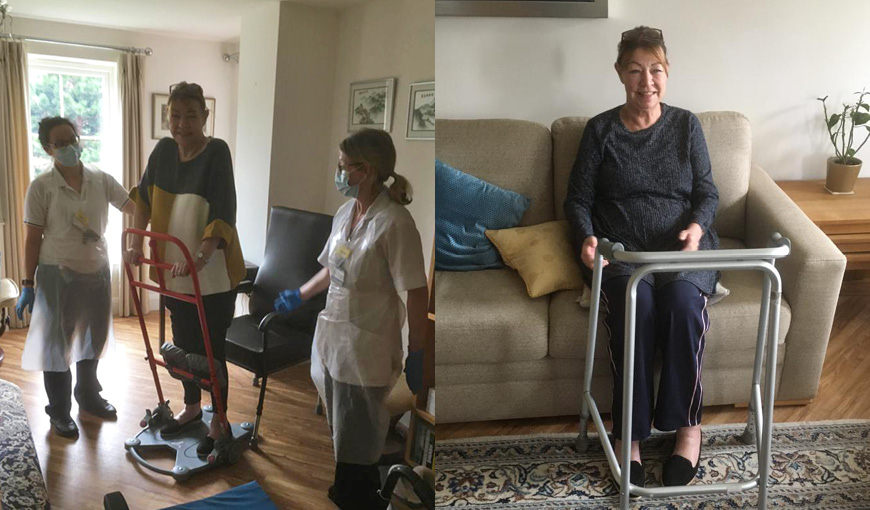 When Trish was discharged on her birthday on 16th March, she could move her arms and feet, sit independently and transfer herself from the bed to her wheelchair and commode. Trish was determined that her husband shouldn't have to undertake all her care so a degree of independence was really important to her. Her next goal is to stand independently and hopefully return to their main home in France.
Prior to her discharge the Myton team worked with Marie Curie Hospice in Solihull, local to where Trish is currently living to arrange a wheelchair, equipment for her home and for community therapists to take over her rehabilitation.
Trish's husband was given advice by the Myton therapy team on how to best use the equipment at home.
Trish describes how she never felt alone at Myton, day or night, and that the team were more like friends or family the way they cared for her and her loved ones. Trish is full of gratitude to them all for...
doing a difficult job with ease. They keep your spirits up and are always smiling and happy. They listen to you. They do things your own family would do like surprising me by putting up bunting on my birthday.

They gave me relaxing Jacuzzi baths, they did my hair, shaved my legs and helped me to be the best I could be. They give you hope & confidence. When I used my wheelchair independently for the first time the nurses sang and danced in the corridor. These funny, joyous moments helped me to feel much more positive about my future.
When asked what she would say to anyone unsure about coming or bringing a loved one to Myton, Trish said:
One million per cent do not be scared – go there to be the best you can be. They will work with you and your body & help with things you don't even know you need. You won't be alone. We are all so grateful from the bottom of our hearts.
We are excited to be holding our Light Up A Life service at Coventry Cathedral on Sunday 12th December.
Spaces are limited due to social distancing so if you would like to join us we would advise responding quickly.
We have chosen this beautiful indoor setting so that we can all come together in one place that is inclusive of all three of our hospices and families cared for by our Myton at Home teams, plus we won't have to worry about the great British weather!
We hope that you can join us in person, but for those who are unable or would prefer to access the service from their own home it will be available to watch online on Friday 17th December.