For Andy Smith, Coventry Myton Hospice was as close to heaven as he could have imagined when his wife Helen was admitted for end of life care in August 2019.
Helen had been rushed to hospital with blood clots in her leg two weeks before she came to Myton. As the clots moved from her legs towards her lungs, she and her family were told she had just days left to live – news which none of them had expected.
There was nothing Helen and Andy Smith enjoyed more than spending an evening together with a nice home-cooked meal and a bottle of wine.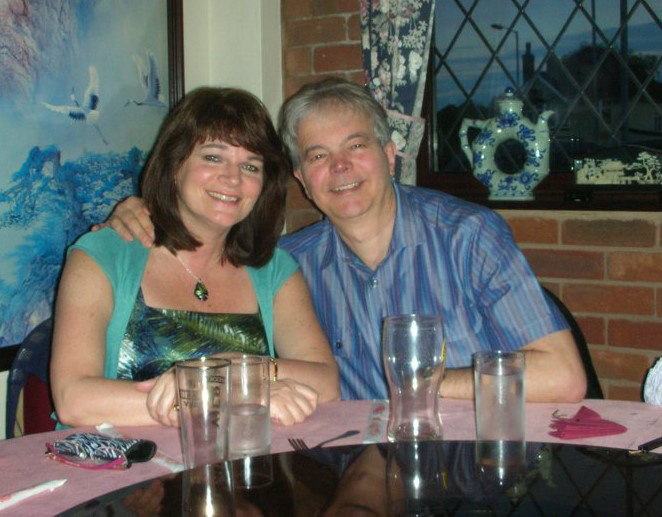 They met in Derbyshire, Christmas Eve 1983 where Helen was working the festive season on the staff of a hotel. Andy knew by Boxing Day she was the one for him.  At the time she was in her second year at Manchester University studying Illustration.
He said:
I had just set up a small business in Rugby and went away to Derbyshire for Christmas. She then came to Rugby to visit me and I asked her to marry me on her second visit! We had a two and a half year engagement, got married, and had kids. We never had any money but we had the best family in the world. We were both doing what we wanted to do – I was a musician and she was an artist.
In 2016, Helen had been diagnosed with Ovarian Cancer following a hysterectomy. The operation appeared to have removed all the cancerous cells but she went through chemotherapy to ensure the cancer was gone. She was having check-ups every 3 months but the cancer returned in the autumn of 2018 and was now in her Lungs, Liver and Lymph Glands.
More chemotherapy just held the cancer at bay and Helen decided to try and get involved with clinical trials. Her chemotherapy ended in early 2019 and her health declined, meaning she couldn't be accepted onto any trials.
In that time though, Helen and Andy decided to make some memories knowing that their time together was limited. They enjoyed trips away to Liverpool, Norfolk and the Cotswolds, spent time with family, and most importantly they spent quality time with their grandchildren who were both just 18 months old.
Helen arrived at Coventry Myton Hospice on the Thursday afternoon, but neither she, Andy nor their children knew what to expect from a hospice.
None of us knew what a hospice was like and it wasn't something we'd ever really considered; we just assumed she'd die in hospital which isn't the nicest thought. We were just knocked out by the place – from the minute we got there we knew it wasn't like a hospital. They just made everything so much easier.

We knew it was the 'last stop' but it made the memories all the more special. We knew what was going to happen but Myton made it a little less horrible; it was like a little heaven. Our kids and I used the relatives' accommodation and we were given privacy when we needed it.

Experiencing Myton made me realise that it is as much for the loved ones as it is for the patients. We could be a family rather than worrying about looking after Helen. We made the room 'hers' with her favourite cushions from home and photos of the family. I brought my guitar with me and was able to sing to her – it was little things like that which, when you look back, meant there were moments in there which were beautiful.
Helen arrived at the hospice on the Thursday afternoon and died two days later on the Saturday afternoon.
She was drinking a gin and tonic at 10 o'clock on the Friday morning, her bed was moved over to the patio and the grandchildren were playing on the lawn. She had a massage – it was just amazing.

There were times we laughed when we thought we wouldn't be able to laugh about anything. The nurses were marvellous – Helen was a quiet, shy, private person but as soon as we got to Myton it was like she knew she was in safe hands.
In Helen's memory, Andy and his family decided to sell prints of some of her illustrations in the run-up to Christmas.
These raised over £1,000 which was split between Myton and Target Ovarian Cancer. The family continue to sell prints of Helen's work and Andy is compiling a CD of original songs which he hopes to sell to raise more money.
Could you help support The Myton Hospices to ensure we can continue to deliver our care free of charge?
We are a charity and every year we need to raise £10.5 million of the £13.25 million we need to support the people of Coventry and Warwickshire.
£25
is the daily upkeep cost of our relatives accommodation
£50
could fund two hours of specialist nursing care
£80
could fund a child to attend five bereavement counselling sessions
£106
covers the cost of one Myton at Home visit