You want to marry the love of your life. You've booked the venue, you've ordered the dress and you've confirmed the date. Suddenly, you're asked to consider having your wedding at a hospice, as soon as possible. In November 2014, this is the situation Paul Morgan and Belinda Morgan North were faced with.
Belinda and Paul's relationship began at a young age. As teenagers, they regularly headed to the Ricoh Arena together to watch their favourite local team. Although the couple's relationship came to an end when Belinda went to university, they remained friends and recoupled 11 years later.
When the couple weren't at the Ricoh watching a game of football, or looking after Belinda's children, Leah and Zoe May, they were managing their pub, Old Crown on Windmill Road in Coventry. Belinda and Paul were inseparable and had no doubt that they wanted to spend the rest of their lives together.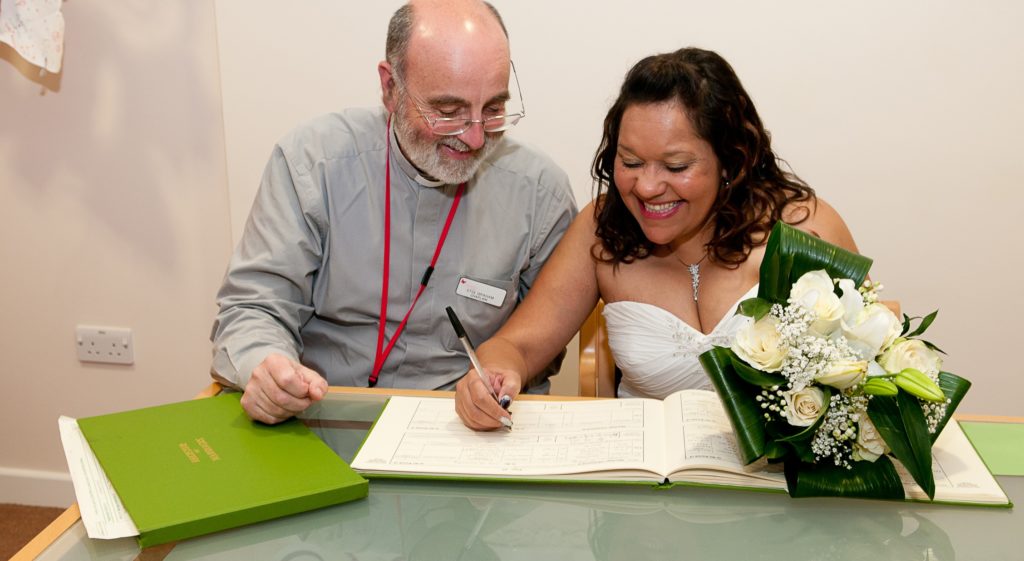 In April 2013, the couple were confronted with a different future to the one they had pictured when Paul was diagnosed with bowel cancer.
Over the next 18 months, with support from his family, Paul received chemotherapy to try to prevent the tumour from progressing. Although the treatment appeared successful at first, in September 2014 Paul was told his illness was terminal and a matter of weeks later his GP referred him to Coventry Myton Hospice to help him manage his pain.
Belinda said,
At Myton, they go above and beyond what they are supposed to do. If any of us needed anything they were always there to help. I also really appreciated being made to feel involved in Paul's care. For example, before they administered anything they always told me what they were going to do. Being kept informed was really reassuring.
It was during a conversation with one of the consultants that Paul and Belinda revealed their plans to marry the following year on 7th February- the date coincided with Paul's 50th birthday. Upon seeing the excitement on their faces as they discussed their wedding plans, the consultant had no choice but to advise Belinda and Paul to move the date forward to as soon as possible.
Belinda and Paul wouldn't let anything stop them from tying the knot. They agreed to move the wedding forward and preparations started the next day. Everyone, from the nurses to the fundraising team, did their part to make Belinda and Paul's day special.
Belinda said,
I remember walking into the day unit the day before the wedding to find one of the consultants making a banner after finishing their shift. I was so concerned about how we were going to pull all the plans together in 24 hours but thanks to all the staff and volunteers we did!
Not only did they need to source the cakes, flowers, photographer and bridesmaid dresses but they also had to obtain a special licence from the Archbishop of Canterbury to marry in such a short space of time. Thankfully the licence was granted and on November 22nd Belinda and Paul were married at Coventry Myton Hospice.
When describing the wedding, Belinda said,
It was such a lovely day. One of the hardest but most touching moments was seeing how much everyone cared. I remember turning around and seeing the nurses at the back of the room in tears and then I started to well up myself!
Paul sadly died 10 days later at Coventry Myton Hospice.
Belinda said,
Being at Myton gave us time to grieve for Paul and the future we had planned together. Paul got his dignity back when he came to Myton and we will always be grateful for that.
Could you help support The Myton Hospices to ensure we can continue to deliver our care free of charge?
£25
is the daily upkeep cost of our relatives accommodation
£50
could fund two hours of specialist nursing care
£80
could fund a child to attend five bereavement counselling sessions
£106
covers the cost of one Myton at Home visit