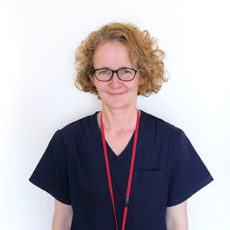 Dr Sarah MacLaran
As the Medical Director Sarah's role is to work within the Senior Leadership Team assisting with all aspects of Myton and to lead and support the Doctors.

Sarah became Medical Director in April 2019 having already worked for Myton as a Consultant in Palliative Medicine for 10 years. Since 2009 she had also been working locally at the University Hospitals of Coventry and Warwickshire as part of the Hospital Palliative Care Team.
Sarah trained in Palliative Medicine in the West Midlands spending much of her specialty training in previous years working at Myton as a Registrar.
It was during her time at Medical School in Southampton that Sarah developed an interest in Palliative Care.
Sarah also works clinically as a Consultant in Palliative Medicine taking responsibility for a caseload of inpatients at Myton, alongside the wider team of doctors, nurses, therapists and counsellors.
As well as supporting the clinical team to provide continually improving specialist palliative care at Myton, Sarah supports other colleagues and professionals locally to improve palliative and end of life care through ongoing education programmes and developments in research.