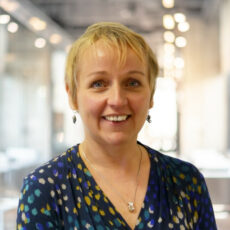 Liz Jackson
Liz Jackson joined Myton in 2021 as HR Director having worked for the previous 13 years in a range of HR, project management, and senior operational leadership roles for St Andrew's Healthcare- a large not-for-profit specialist mental health provider.
Liz has also worked in the commercial sector, putting her History degree to fine use completing Greggs the baker's graduate trainee scheme to become an Area Sales Manager, then moving into people development and HR manager roles for Asda logistics.
Liz chose to move into the not-for-profit and healthcare sector so that her work contributed to something more meaningful for her than company profits. Coming to Myton continues to fit Liz's personal ethics, and she sees the role of her HR team as enabling and supporting the rest of the Charity to do everything needed to provide exceptional care to our patients.
Outside of work Liz loves to garden and bake in-between increasing requirements to be "mum's taxi"