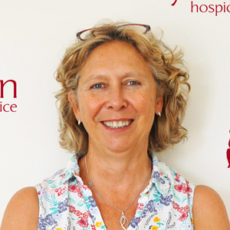 Juliet Howard
After qualifying as a Registered Nurse in Bath in 1988 and working for a year in The Royal United Hospital in Bath on chest medicine and ICU, I moved to St George's hospital in London as a Senior Nurse on a surgical and high dependency unit. During this time at George's, I was offered a post in Bermuda and consequently moved abroad where I nursed at the only hospital on the Island, for four years.
I returned to the UK in 1996 with a husband and two children in tow, where I continued my nursing career at Warwick Hospital and had another child. It was here that I developed my interest in palliative care through caring for many women with breast and gynaecological cancers.
I obtained my degree in 2010 at Coventry University and moved to Coventry Myton Hospice as Senior Staff Nurse and have remained ever since!
I have always thrived on being a "hands on nurse" and love to work closely with patients' and their families at grass root level. I have undertaken counselling courses in complex grief and caring for bereaved children and, throughout my nursing career, have always played a significant part in the development and training of clinical staff.
In May 2019 I was lucky enough to be offered the seconded post of Clinical Practice Educator for The Myton Hospices – a role that I am thoroughly enjoying as it offers both formal teaching opportunities and working one to one with staff in the clinical workplace.
To me, palliative care is an emotionally demanding but incredibly fulfilling specialism of nursing to work in.